I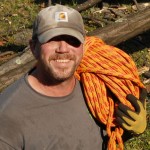 started working for Bartlett Tree Company when I was 18. I worked there for a little over a year, learning to do ground work and the various operations that go on with commercial tree care.
I then moved into working with a construction company building overhead power lines. But I spent most of my free time starting to do some private tree work to make some extra money. I became a lead lineman and spent about 10 years at that occupation. All the while still doing tree work behind the scenes.
I ended up going to work for Action Tree Service in Portsmouth, Va. There I met Tommy Taylor who became a great friend and taught me many of the practices that I still use today. RIP Tommy. We mainly worked around Portsmouth, Chesapeake, and Va. Beach. I worked there for 4 years before moving back to the Northern Va. area.
When I moved back up here I helped my dad start a Garden and Landscaping center. I also worked for the Town of Front Royal as lineman for a while.
I started Shenandoah Tree Service in 1998. My good friend Randy Putman helped me for 12 years and finally lost a battle with cancer. RIP Randy. We built a large and loyal customer base within those years and our reputation was spotless. I had to end up giving up the business for about 5 years due to personal reasons. But I started again back in 2011 and haven't looked back.
It's taking a while to build that customer base back up, but with hard work and the dedication to succeed , I'm sure it won't take long!
So my mission is your satisfaction, plain and simple. We have hundreds of satisfied customers and continue to add to that every day.